Xiaomi Mi Body Composition Scale 2 - Review
Usually scales are not fascinating products. See on this review how Xiaomi changed the game.
When hearing the word "Xiaomi" we may be tempted to think about affordable smartphones with high performance. In fact Xiaomi is way more than a smartphone maker. The brand is present in several other niches, such as home appliances and even clothing. Today I would like to present a product from their health/lifestyle department: the Xiaomi Mi Body Composition Scale 2, which is nothing more nothing less a typical body scale in steroids. Let's see why it is so interesting.
A scale?
Like another scale, Xiaomi Mi Body Composition Scale 2 aims to measure people weight. However, you would expect more from Xiaomi, right? From the name "Body Composition", you can guess it does more than showing a number that make us proud or sad: it also features other metrics, such as body fat, water percentage, and more.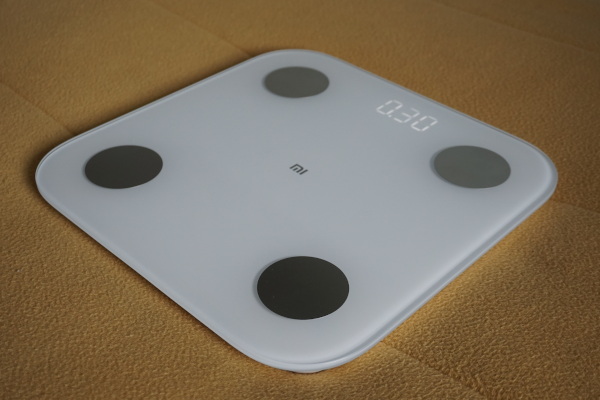 It competes directly with other scales that give you the same metrics. But this scale shines on these two aspects:
Price. The scale is available for as low as 20/25 euro. Other scales you find in this segment are usually more expensive, offering you nothing more in addition
App. The companion app connects to the scale using Bluetooth and synchronizes the data directly to the smartphone, so you don't need to manually track the valuable metrics the scale offers to you.
The product dimensions are 30x30x2.5 cm. The body is made of plastic and the plate is tempered glass. To support the functionality, the scale needs 4 AAA batteries, being enough for about 6 to 12 months of usage according to other reviews (I weight myself 1 time per week, and the batteries were already enough for an year and counting), and the data synchronization is powered by a Bluetooth 5.0 connection.
Let's take a look how to send the data from the scale to the app and what we can do with it.
A good companion app
The things get more interesting when you connect the app with the scale. Since it is a Xiaomi product, you can use either the Mi Fit app or the Zepp app. Both will show you the following measures:
Body fat
Muscle mass
Water level
Basal metabolic rate
And of course, weight :)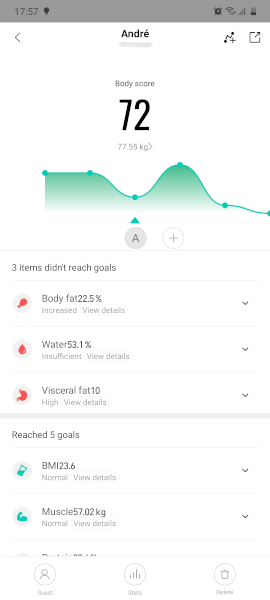 To record these measurements, you just need to open the app, connect the Bluetooth and step into the scale. The app automatically starts recording your weight, and after a couple of seconds, it also records other vital metrics about your body. You can then see personalized recommendations on what is good about your body, and steps to work around things that are not so well. If you control your weight regularly, you will also be happy to know that the app stores all the metrics, so you can easily see your progress over the time in a convenient chart.
Just as a note, a large part of these values are actually calculated or derived from others. This means the scale is not a medical device, and can be inaccurate sometimes. But since it measures "wrong" in the same way, this does not represent a problem, as you are still able to see your progress between checkpoints ;) .
A specimen in an ecosystem
If you pay attention to the app, you will notice that you have a lot of options to track other areas, such as your hear rate (BPM), SpO2, etc. While the scale will not help you with those (it is a scale after all), you will find more Xiaomi/Amazfit products which will perform such tasks. It is a good ecosystem of products Xiaomi is developing to help you monitor your health.
One side note: if you are planing to buy the scale, pay attention: there is a version with only measures the weight, which is normally sold at the 20 euro as well. You can however easily distinguish between them because this version as the 4 metal circles on the top to allow measuring your body fat and all the other metrics. You can also check the model number "xmtzc05hm" to be sure you are acquiring the intended product.
If you are in Portugal, you can buy it from Mi Store Portugal or you can buy it online through AliExpress and Banggood (just be aware to choose an European warehouse to receive it faster and avoid importing costs).